This is a preliminary page illustrating a series of maps generated of CVDS during 30 Days in ActiveWorlds. The maps were produced using a combination of the world mapping tools provided by Andras and Foxy, additional rendering was carried out using 3DMax 2.5.

Each map leads to a higher resolution version:

Map1 - 30 Days Teleport Map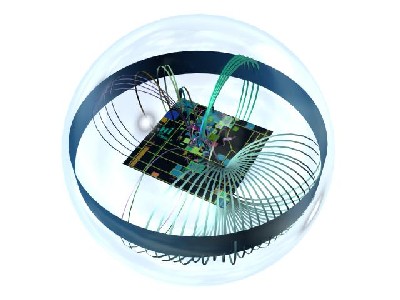 Map 1 illustrates the teleport system created by Day 30 in CVDS. The blue cylinder represents the horizon in CVDS and the sphere the world server. All lines going out towards to the sphere are external teleports to other worlds.
Maps 2 and 3 show close ups of the Teleport Map:
| | |
| --- | --- |
| Map 2 | Map 3 |
Pictured left are 6 images of the teleport map, taken from above Ground Zero. Combining these images creates a full 360 degree panorama of the map, allowing you to view the world from all angles above Ground Zero. A JAVA enabled version is available for viewing by either clicking on the image or here. Note - the wire frame around the image represents the world server.

A VRML 2.0 3D tour of the teleport map is provided below. Click here to view the VRML file (47k). If you experience problems with the zipped version of the VRML file, the full version (372k) is available here.
Map 4 illustrates a wire frame rendering of the building density in 30 Days. An interesting observation is that although the majority of the building occurred in the northern regions of the world, the densest building per grid cell took place to the south of ground zero.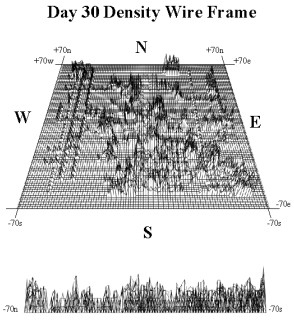 Map 4
Map 5 illustrates the building density draped over the land use map.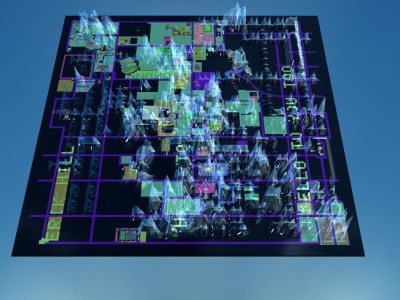 Map 5
A Panorama of the wire frame render mapped onto land use is also available, click on the image below to load a JAVA applet enabling a 360 degree view of the world from Ground Zero.

More information and analysis will be made available shortly.
email asmith@geog.ucl.ac.uk