The Winner of the First 30 Days
30 Days in ActiveWorlds is please to announce the winner of the 1 Year Free Citizenship to ActiveWorlds.

A team of judges have travelled around the world evaluating each building constructed during the last 30 days. After a difficult decision a final winner and five runners up have been picked. 30 Days now continues with the prize of a High Res CD Rom for the next winner. A range of new objects will be added to the world and users will be able to upload their own models, details will be placed online shortly.
The Winner of the Free Citizenship, by a unanimous decision, is..... Brenda from Tampa, Florida, for an innovative construction at 49N, 11W Facing SW: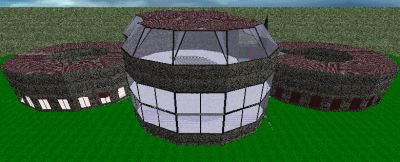 The judges were impressed by the mix of both conventional and non conventional features in the building. The structure mixes modern architecture with construction that is only possible in virtual worlds... Well Done Brenda.
A list of the runners up in this close run contest is provided below:
Wispers house at 62N, 5W was complemented by the judges for is superb interior design. The spiral stair case and the arrangement of furniture make for a house that is both stylish and spacious. The interior is complemented by a well designed garden and water feature.
Grimms Dark Night Tavern, 59N, 8E, Facing E, was the first 'Bar' to be set up in the world. The Tavern, although conventional, is a good example of intelligent design coupled with a high level of building skills. Standing out of the terrace you get a true sense of location and place, the signs of good design in a virtual world.
Tom Huxton has built an Art Gallery in the shape of a pyramid in the world. Located at 58S, 65E, Facing S, the building depicts a sense of scale, which due to viewpoint clipping, is often hard to achieve in virtual worlds. A range of fine art pictures are given pride of place in the gallery
Lastly, CyberHar, a tourist builder, has built an Alien Invader at 43N, 42W, Facing E. CyberHar has been a prolific builder in 30 Days, constructing amongst others the Eiffel Tower, The Empire State Building and his own Building School. The judges award CyberHar a special mention for his dedication to building.

CASA would like to thank all the participants who have helped make '30 Days' a success.